NCSO arrests man for cutting student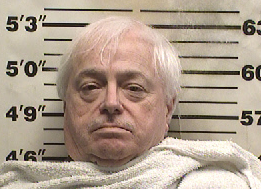 The Navarro County Sheriff's Office arrested a former Mildred High School chemistry teacher Friday, April 5, for injury to a child after he allegedly cut one of his students the day before with a pair of scissors.
According to the NCSO's incident report, Patrick James Navin, 66, allegedly picked up a pair of scissors during a lecture and drug the sharp edge of the scissors across a student's forearm, breaking the skin and leaving a red whelp about three inches long.
The report states that Navin said, "And this is how cells reproduce," and placed the scissors back on the desk like nothing happened.
Navarro County Cpl. Keith Lewis met Friday with MISD Superintendent Shannon Baker, who said he was in the process of letting the teacher go due to the incident.
Baker also requested a criminal trespass warning to be issued for Navin for Mildred ISD, which resulted in Navin's car being inventoried and towed.
During the search, Cpl. Lewis found a 9mm handgun and two magazines in the center console.
Once at NCSO, Navin admitted dragging the scissors across the student's arm, but said that it was an accident that it cut him, according to reports.
Navin was charged and booked into the Navarro County Jail where his bond was set at $25,000 by Judge Connie Hickman.
Baker submitted the following statement Monday to the Corsicana Daily Sun:
"Mildred ISD received a complaint from a parent, stating that a student had been injured by a teacher. MISD takes these allegations very seriously. The safety of our students is the district's number one priority. The teacher against whom these allegations were made, has resigned from the district. The district has reported this incident to law enforcement and the State Board for Educator Certification. The district intends to follow Board Policy and state law and investigate the matter thoroughly. Because this is a student and a personnel matter, the district is unable to offer more details or comment further, pursuant to federal law protecting student privacy, state law and board policy."