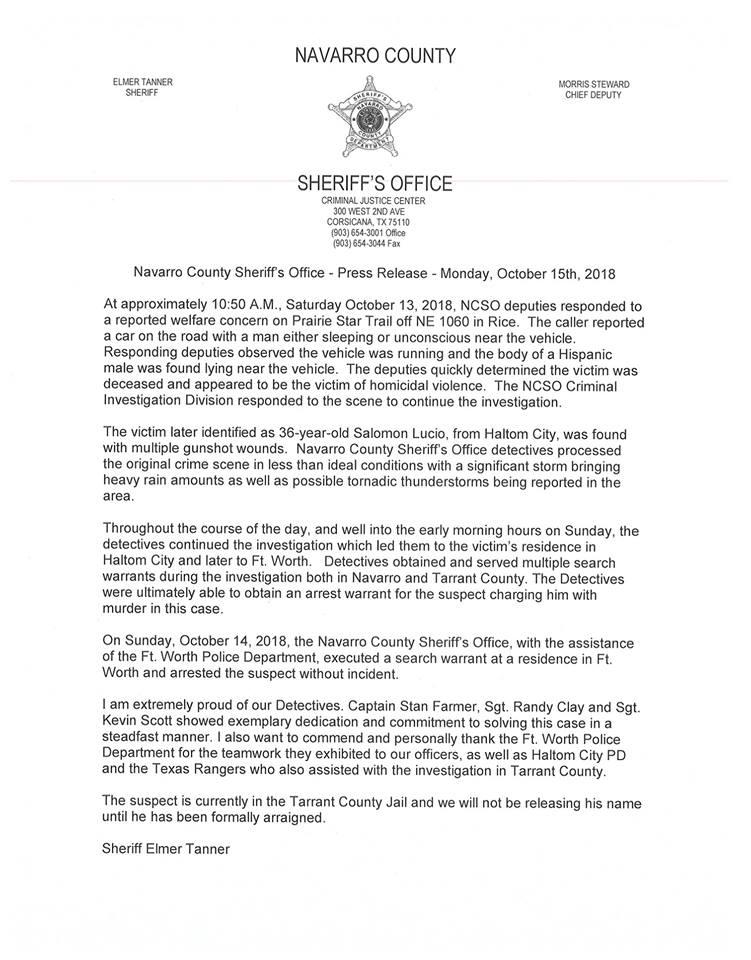 Navarro County
Sheriffs Office
Criminal Justice Center
300 West 2nd Ave
Corsicana, Tx 75110
(903) 654-3001 Office
(903)654-3044 Fax
Navarro County Sheriff's Office - Press Release_ Monday, October 15th, 2018
At approximately 10:50 A.M., Saturday October 13, 2018, NCSO deputies responded to a reported welfare concern on Prairie Star Trail off NE 1060 in Rice. The caller reported a car on the road with a man either sleeping or unconscious near the vehicle. Responding deputies observed the vehicle was running and the body of a hispanic decreased and appeared to be the victim of homicidal violence. The NCSO Criminal Investigation Division responded to the scene to continue the investigation.
The victim later identified as 36-year-old Salomon Lucio, from Haltom City, was found with multiple gunshot wounds. Navarro County Sheriff's Office detectives processed the original crime scene in less than ideal conditions with a significant storm bringing heave rain amounts as well as possible tornadic thunderstorms being reported in the area.
Throughout the course of the day, and well into the early morning hours on Sunday, the detectives continued the investigation which led them to the victim's residence in Haltom City and later Ft. Worth. Detectives obtained and served multiple search warrants during the investigation both in Navarro and Tarrant County. The Detectives were ultimately able to obtain an arrest warrant for the suspect charging him with murder in this case.
On Sunday, October 14, 2018, the Navarro County Sheriff's Office, with assistance of the Ft. Worth Police Department, executed a search warrant at a residence in Ft. Worth and arrested the suspect without incident.
I am extremely proud of our Detectives. Captain Stan Farmer, Sgt. Randy Clay and Sgt. Kevin Scott showed exemplary dedication and commitment to solving this case in a steadfast manner. I also want to commend and personally thank the Ft. Worth Police Department for the teamwork they exhibited to our officers, as well as Haltom City PD and the Texas Rangers who also assisted with the investigation in Tarrant County.
The suspect is currently in the Tarrant County Jail and we will not be releasing his name until he has been formally arraigned.
Sheriff Elmer Tanner