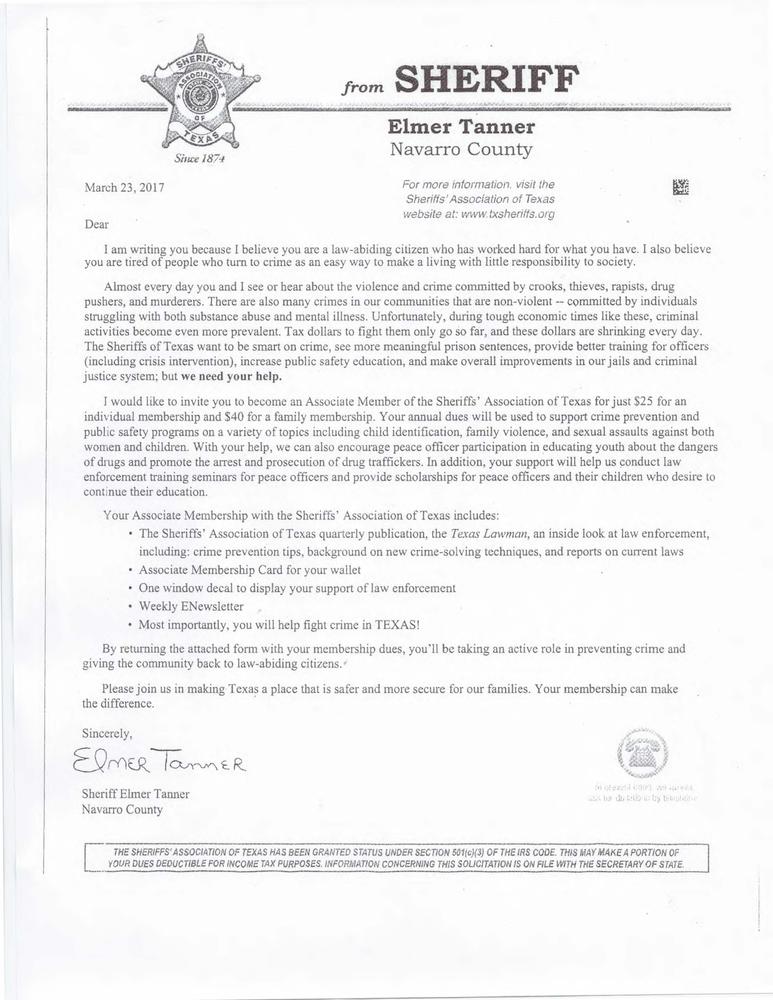 Navarro County
Sheriff's Office
Criminal Justice Center
300 West 2nd Ave
Corsicana, TX 75110
(903) 654-3001
(903) 654-3044
March, 21, 2017
Dear Navarro County Citizens,
I am notifying you that an invitation to become a member of the Sheriff's Association of Texas will go out in the mail over the next several weeks. Associate member funding allows the Sheriff's Association of Texas to provide critical training, technical resources, and legislative support on key criminal issues to law enforcement across the state.
I am a long time member of the Sheriff's Association of Texas and the association has my full support. The membership mailer that you may receive from the Sheriff's Association of Texas is not a scam. I am posting a sample copy of the mailer to our social media page and will also be sending it to the local media.
It is important that you understand that then money from the membership drive does not go directly to the Navarro County Sheriff's. If you decide to participate and join you will become an associate member of the Sheriff's Association of Texas. The mailer will clearly explain how the Sheriff's Association of Texas Intends to used the membership fees.
Thank you,
Sheriff Elmer Tanner
---
From Sheriff Elmer Tanner
Navarro County
For more information visit the Sheriff's Association of Texas website at: www.txsheriffs.org
March 23, 2017
Dear
I am writing you because I believe you are a law-abiding citizen who has worked hard for what you have. I also believe you are tired of people who turn to crime as an easy way to make a living with little responsibility to society.
Almost every day you and I see or hear about the violence and crime committed by crooks, thieves, rapists, drug pushers, and murderers. There are also many crimes in out communities that are non-violent -- committed by individuals struggling with both substance abuse and mental illness. Unfortunately, during tough economic times like these, criminal activities become even more prevalent. Tax dollars to fight them only go so far, and these dollars are shrinking every day. The Sheriffs of Texas want to be smart on crime, see more meaningful prison sentences, provide better training for officers justice system; but we need your help.
I would like to invite you to become an Associate Member of the Sheriffs' Association of Texas for just $25 for an individual membership and $40 for a family membership. Your annual dues will be used to support crime prevention and public safety programs on a variety of topics including child identification, family violence, and sexual assaults against both women and children. With you help, we can also encourage peace officer participation in educating youth about the dangers of drugs and promote the arrest and prosecution of drug traffickers. In addition, you support will help us conduct law enforcement training seminars for peace officers and provide scholarships for peace officers and their children who desire to continue their education>
You Associate Membership with the Sheriff's Association of Texas includes:
The Sheriffs' Association of Texas quarterly publication, the Texas Lawman, an inside look at law enforcement, including: crime prevention tips, background on a new crime-solving techniques, and reports on current laws.
Associate Membership Card for you wallet
One window decal to display you support of law enforcement
Weekly ENewsletter
Most importantly, you will help fight crime in TEXAS!
By returning the attached form with you membership dues, you'll be taking an active role in preventing crime and giving the community back to law-abiding citizens.
Please join us in making Texas a place that is safer and more secure for our families. Your membership can make the difference.
Sincerely,
Elmer Tanner
Sheriff Elmer Tanner
Navarro County