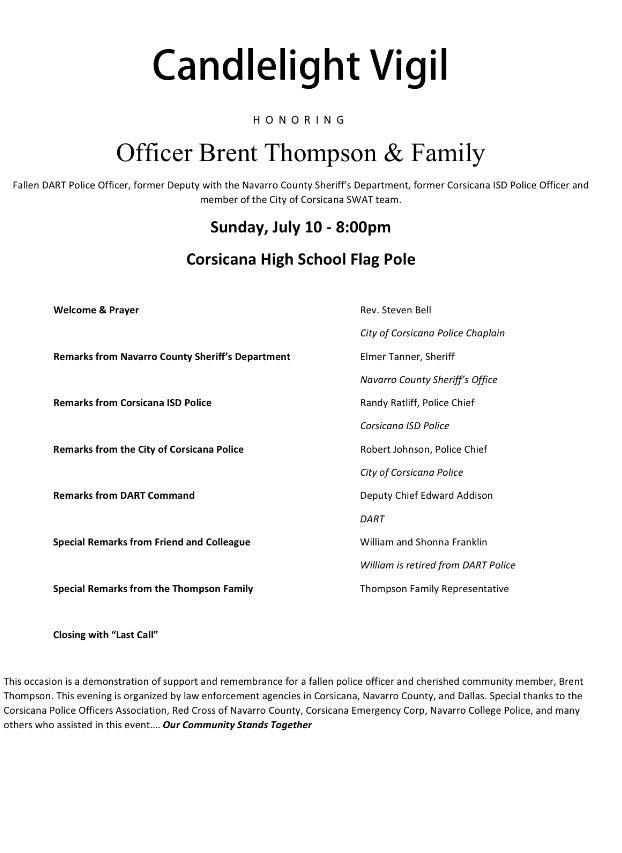 Candlelight Vigil
Honoring
Officer Brent Thompson & Family
Fallen DART Police Officer, former Deputy with the Navarro County Sheriff's Department, former Corsicana ISD Police Officer and member of the City of Corsicana SWAT team.
Sunday, July 10 - 8:00pm
Corsicana High School Flag Pole
Welcome & Prayer

Rev. Steve Bell

City of Corsicana Police Chaplain

Remarks from Navarro County Sheriffs Department

Elmer Tanner, Sheriff

Navarro County Sheriffs Office

Remarks from Corsicana ISD Police

Randy Ratliff, Police Chief

Corsicana ISD Police

Remarks from the City of Corsicana Police

Robert Johnson, Police Chief

City of Corsicana Police

Remarks from DART Command

Deputy Chief of Edward Addison

DART

Special Remarks from Friend and Colleague

William and Shonna Franklin

William is retired from DART Police

Special Remarks from the Thompson Family

Thompson Family Representative

Closing with "Last Call"
This occasion is a demonstration of support and remembrance for a fallen police officer and cherished community member, Brent Thompson. This evening is organized by law enforcement agencies in Corsicana, Navarro County, and Dallas. Special thanks to the Corsicana Police Officers Association, Red Cross of Navarro County, Corsicana Emergency Corp, Navarro College Police, and many others who assisted in this event... Our Community Stands Together.