Letter From an Inmate
03/21/2016
I normally don't post letters from inmates but I decided to share this one with our citizens.
The letter is special because it positively addresses the rules and restrictions of the agency and the professionalism of my employees. It is my sincere hope that the inmate who took time to write this letter uses the jail experience in a positive manner. We wish you all the best in the future. The signature was removed for the inmates privacy.
Sheriff Elmer Tanner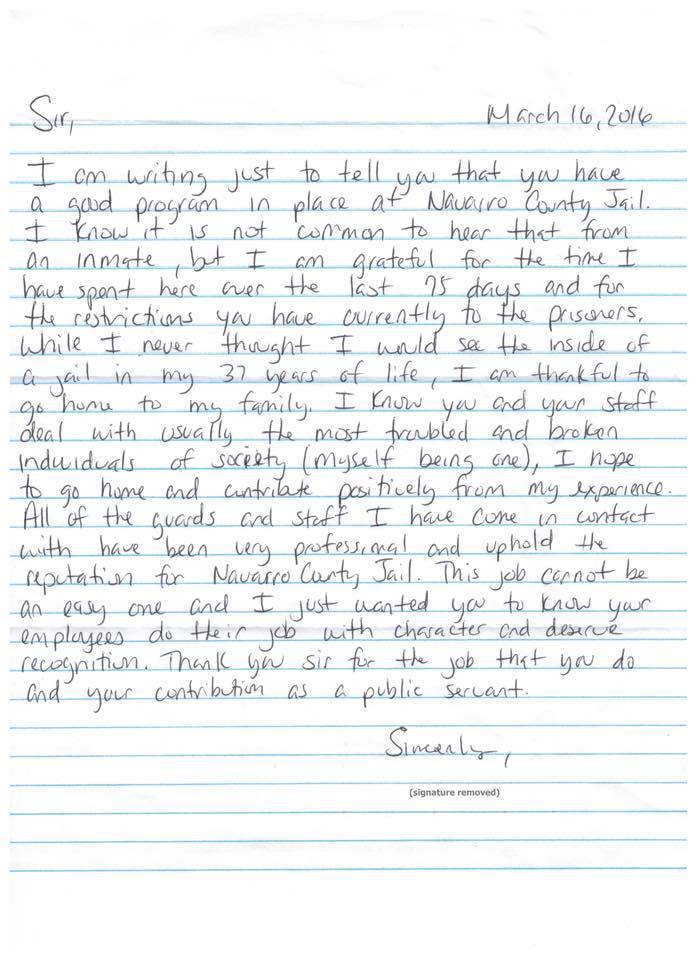 Sir,
I am writing just to tell you that you have a good program in place at Navarro County Jail. I know it is not common to hear that from an inmate, but I am grateful for the time I have spent here over the last 75 days and for the restrictions you have currently to the prisoners. While I never thought I would see the inside of a jail in my 37 years of life, I am thankful to go home to my family. I know you and your staff deal with usually the most troubled and broken individuals of society (myself being one), I hope to go home and contribute positively from my experience.
All of the guards and staff I have come in contact with have been very professional and uphold the reputation for Navarro County Jail. This job cannot be an easy one and I just wanted you to know your employees do their job with character and deserve recognition. Thank you sir for the job that you do and you contribution as a public servant.
Sincerely,
(signature removed)