Due to a recent retirement we are currently accepting applications for a position in the administrative division at the NCSO. Applications will be accepted until January 21, 2016, at 4:00 pm.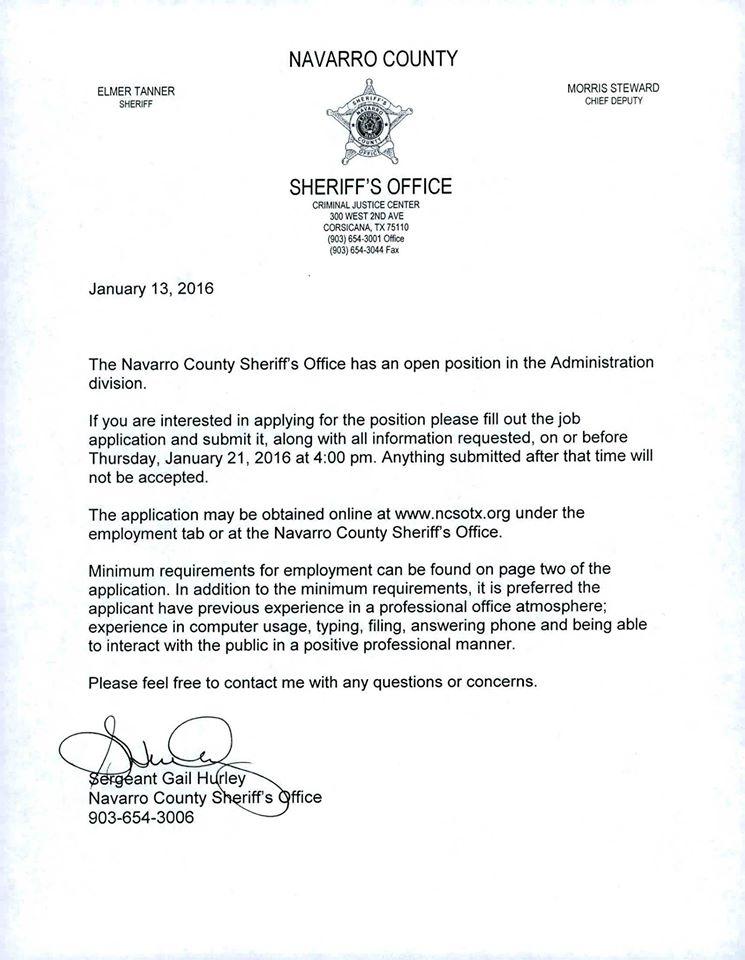 Navarro County Sheriff's Office
Criminal Justice Center
300 West 2nd Ave,
Corsicana, TX 75110
(903) 654-3001 Office
(903) 654-3044 Fax
January 13, 2016
The Navarro County Sheriff's Office has an open position in the Administration division.
If you are interested in applying for the position please fill out the job application and submit it, along with all information requested, on or before Thursday, January 21, 2016 at 4:00 pm. Anything submitted after that time will not be accepted.
The application may be obtained online at www.ncsotx.org under the employment tab or at the Navarro County Sheriff's Office.
Minimum requirements for employment can be found on page two of the application. In addition to the minimum requirements, it is preferred the applicant have previous experience in computer usage, typing, filing, answering phone and being able to interact with the public in a positive professional manner.
Please feel free to contact me with any questions or concerns.
Sergeant Gail Hurley
Navarro County Sheriff's Office
903-654-3006