This suspect was just captured in Corsicana by NCSO Criminal Investigation Division Lieutenant Clint Andrews and Sergeant Ricky Ragan. The suspect was wanted out of Limestone County for Aggravated Assault with a deadly weapon and possession of a firearm by felon.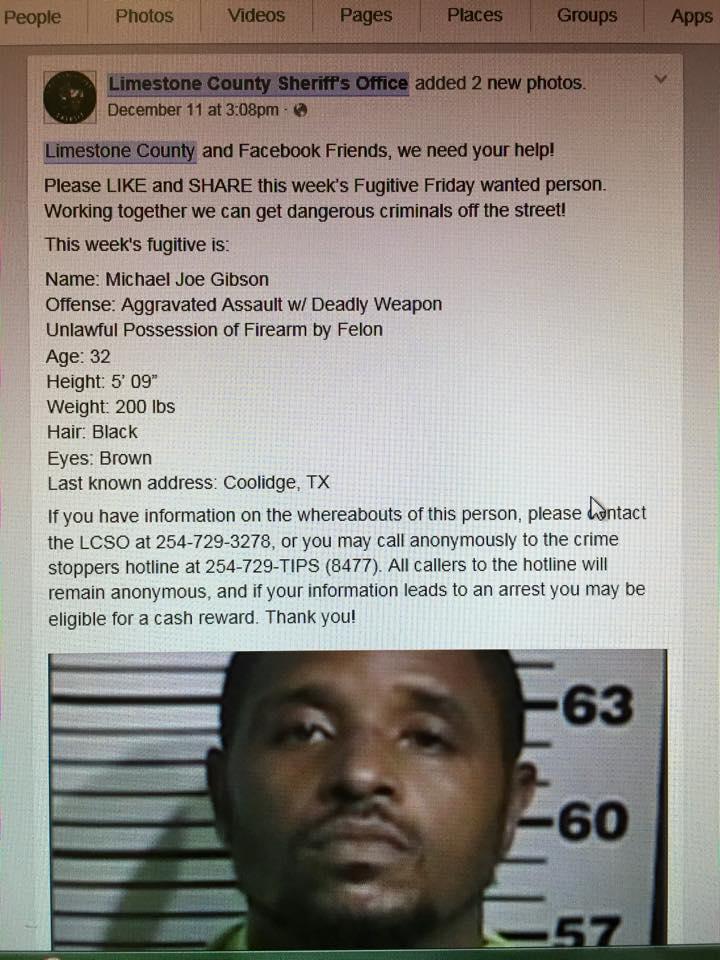 Limestone County and Facebook Friends, we need your help!
Please LIKE and SHARE this week's Fugitive Friday wanted person. Working together we can get dangerous criminals off the street!
This week's fugitive is:
Name: Michael Joe Gibson
Offense: Aggravated Assault w/ Deadly Weapon,
Unlawful Possession of Firearm by Felon
Age: 32
Height: 5' 9"
Weight: 200 lbs
Hair: Black
Eyes: Brown
Last known address: Coolidge, Tx
If you have information on the whereabouts of this person, please contact the LCSO at 254-729-3278, or you may call anonymously to the crime stoppers hotline at 254-729-TIPS (8477). All callers to the hotline will remain anonymous, and if your information leads to an arrest you may be eligible for a cash reward. Thank you!