Calendar of Events
Back to School Rally
A big thank you to Lieutenant Melanie Cagle and Pshaun Martin of the NCSO for your representation, assistance and smiles at today's back to school rally held in Corsicana.
Sheriff Elmer Tanner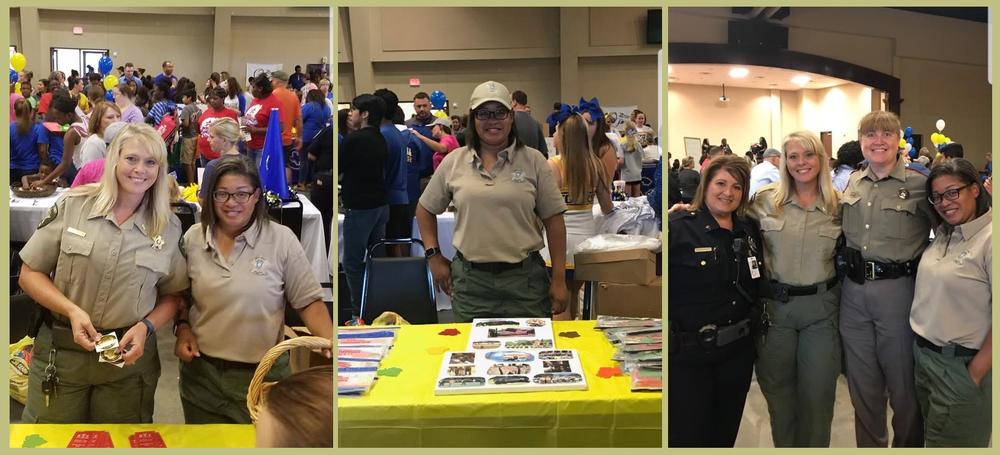 Sheriff Elmer Tanner recently attended the Sheriff's Association of Texas 140th Annual Training Conference at the Gaylord Texan Resort Convention Center in Grapevine, Texas, July 21 - 24,2018. Over 1,500 were in attendance. There were over 240 exhibits at the Expo where attendees could get familiar with the latest technology and products offered to the Law Enforcement and Corrections Community.
The first Sheriffs' Association of Texas Conference was held in Corsicana in 1878. Held annually in various cities across the state, this event allows Sheriffs, Deputies, Federal, State, and City Law Enforcement Officers to network and discuss different issues that affect law enforcement across the state and nation. This year, participants received training on a variety of topics including: State Agency Updates; Mental Health Issues in Jails; Court Security; Texas Public Safety Broadband Program; Leadership; Current Civil Process Issues; Behavioral Red Flag of Church, School, Workplace Shooters; Public Safety First Response to Active Shooter/Mass Casualty Incidents and more.
Through the support of their members, Sheriff's Association of Texas provides training, legal/technical information, and other critical resources to Peace Officers in Texas. The Sheriff's Association of Texas also offers college scholarships to Peace Officers and their children who wish to continue their education. In addition, they honor Fallen Officers with their Lost Lawman Memorial.
4/25/2018
The NCSO will be observing National Correctional Officers Week -May 7th-13th, 2018
In 1984, President Ronald Reagan signed Proclamation 5187, creating "National Correctional Officers' Week." Each year, the first full week in May is recognized as National Correctional Officers and Employees Week, commemorating the contributions of correctional officers and personnel who work in jails, prisons, and community corrections across the country.
The services provided by the dedicated and hard working men and women of corrections are vital to every community.
I would also like to thank and recognize the families of these correctional officers as well. These men and women are also husbands, wives, mothers and fathers and often have to miss school activities, holidays, weekends and other activities with their families because of the job.
Would you please join me in thanking our Navarro County Sheriffs Office correctional officers for their dedication and commitment to our community.
I very much appreciate each and every one of you and the service that you provide daily.
Sheriff Elmer Tanner
5/9/2018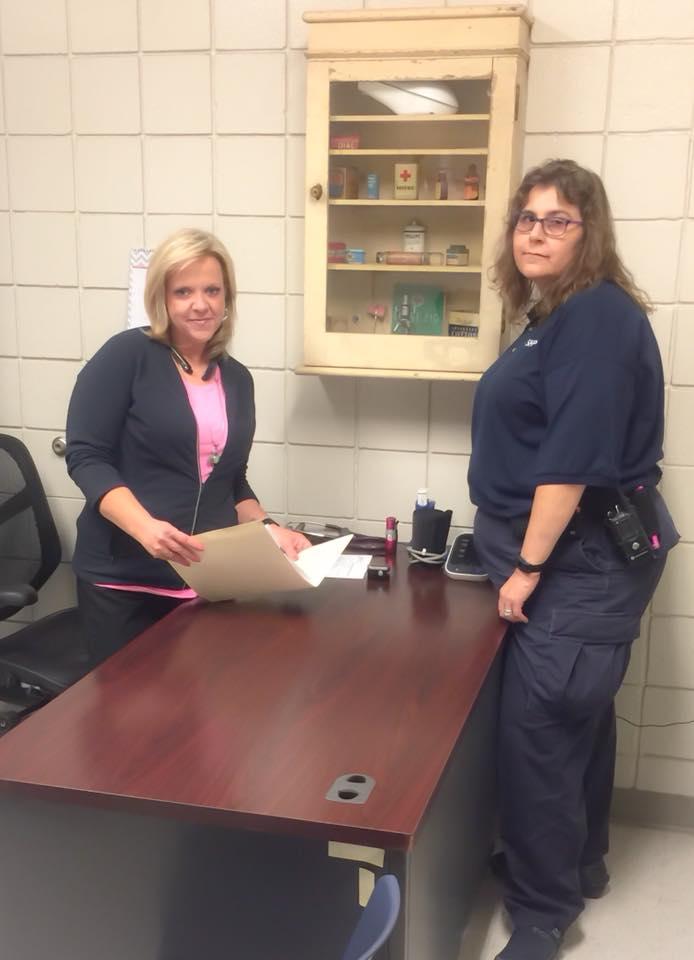 In observance of National Correctional Officers Week and National Nurses Week we are proud to introduce our Southern Health Partners correctional nurses Linda Hullett and Evelyn Heilmann.

Sheriff Elmer Tanner
4/25/2018
I would like to say a huge thank you and wish a Happy Administrative Professional's Day to Lt. Gail Hurley, Kristin Bates, Krystal McCollum, Debra Kelley, and Lucretia Steagall.
I appreciate you, all your hard work, dedication and loyalty to me and to the N.C.S.O.
I hope these flowers will brighten your day.
Sheriff Elmer Tanner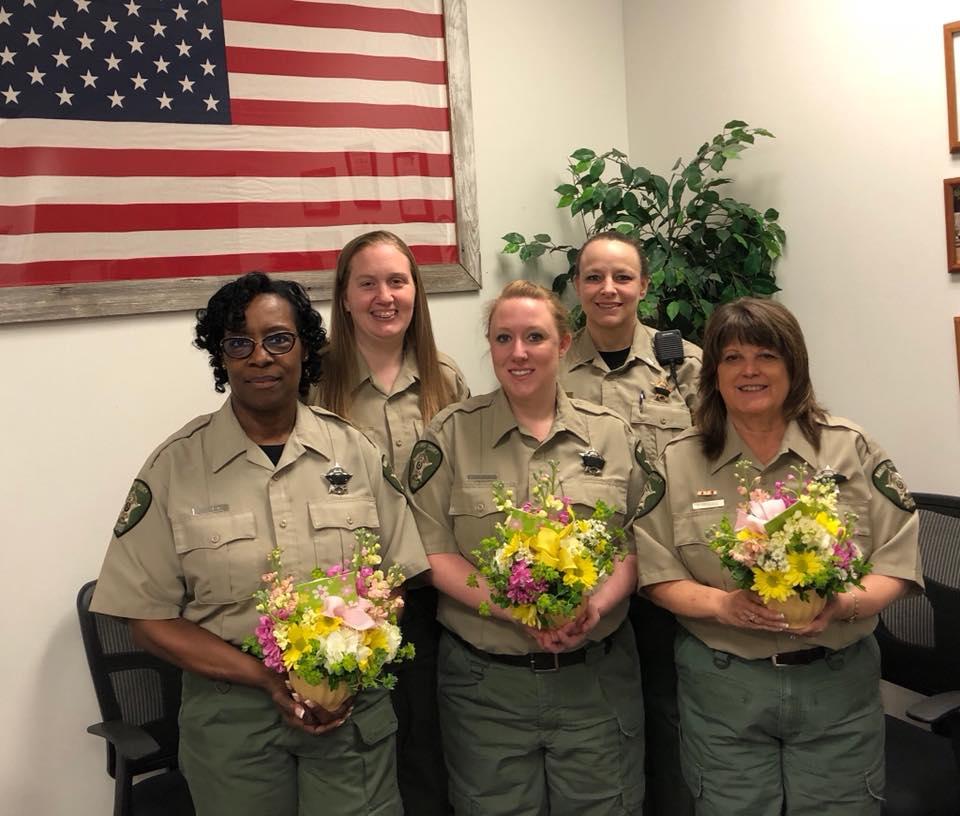 4/16/2016
Our Deputies wear many hats. Today's duties would have warranted a cowboy hat as we worked the cattle at our county farm. Making sure all were wormed, tagged and vaccinated.
Absolutely beautiful day to get it accomplished and we got 'er done.
Sheriff Elmer Tanner
4/9-13/2016
Each year, the second full week of April is recognized as National Public Safety Telecommunicators Week. Our telcommunicators or "dispatchers" are an invaluable part of our emergency response system here at the Navarro County Sheriff's Office. Our telecommunicators assist callers with emergency and non-emergency situations, while providing critical information to law enforcement, firefighters and medical personnel as they respond. This week provides an opportunity to honor these courageous professionals for their vital contribution to public safety. Our telecommunicators serve the community by helping citizens in need every day. If you've ever been the victim of a crime, had a vehicle collision, reported a fire, or needed emergency medical help, it is likely that you called 911 and received help from a "dispatcher" on the other end of the line. While not always recognized, the critical role that these telecommunicators play in keeping the public and first responders safe is essential. Please join me by thanking a telecommunicator this week for their professionalism and dedication to duty.
11/11/2016
I want to thank the men and women of the NCSO Honor and Color Guards who were extremely honored to take part in todays Navarro County Veterans Day celebration. Many of the members of these specific units, along with several other of our NCSO members, not only served our country in the armed forces but continue to serve our citizens today in law enforcement. Your service and dedication is still appreciated today.
Sheriff Elmer Tanner
11/11/2016
Sheriff Elmer Tanner, along with Sergeants Melanie Cagle, Kris Matthews and CPD officer Rose Clark, recently attended the Southwestern Crisis Negotiations Training Conference in San Antonio that is sponsored by the Texas Association of Hostage Negotiators. Crisis negotiators are required to attend 40 hours of continuing education each year to maintain their state certification.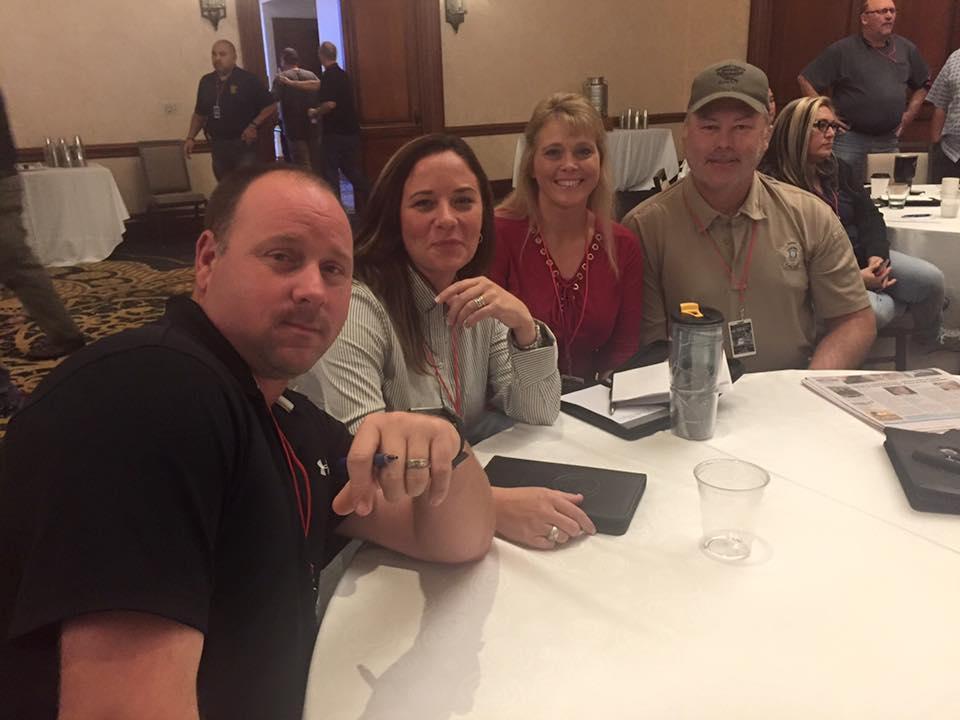 10/4/2016
Sheriff Tanner, Sgt. Melanie Cagle and Deputy Eric Wilson participating in the National Night Out celebration in Corsicana last night.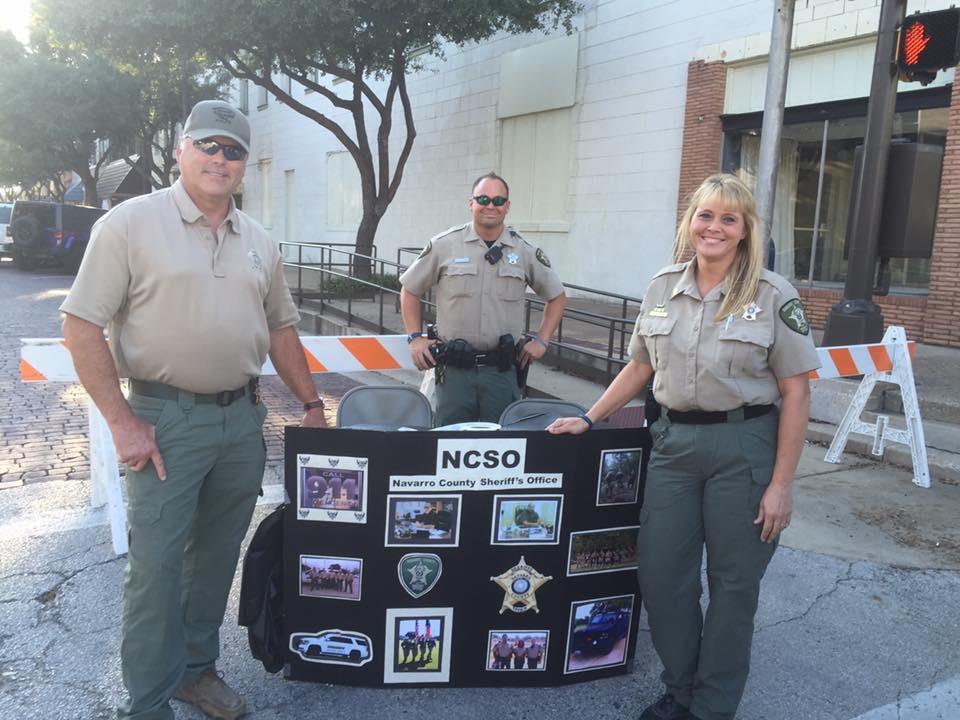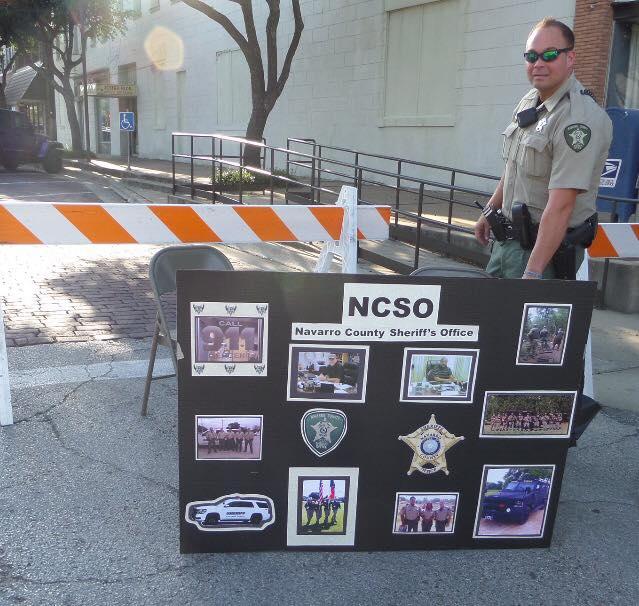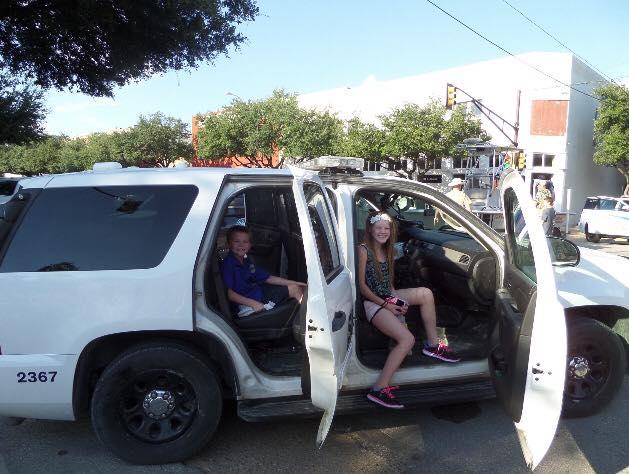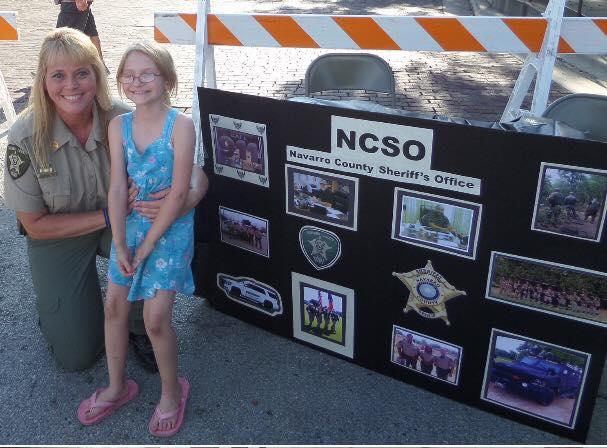 9/29/2016
Today we completed our annual active shooter school at the old TYC facility classroom in Corsicana. Each year, since I became Sheriff, we have sponsored and held an active shooter class that is mandatory for NCSO enforcement personnel.
The active shooter class is conducted over a three day period and is offered at no cost to all other law enforcement agencies in Navarro County. The active shooter class is comprised of both classroom and intensive scenario based training on active shooter situations.
I want to thank our lead instructor Captain Jeremy Phillips, NCSO officers who assisted with instruction of the class, our personnel who attended and the other agencies who sent their personnel to attend this important training.
Sheriff Elmer Tanner
8/13/2016
| | |
| --- | --- |
| Thank you Sergeant Melanie Cagle, Pshaun Martin and Tammy Sloan of the NCSO for your representation and assistance at today's back to school rally held in Corsicana. | |
7/30/2016
Photo of the numerous Sheriffs in attendance at the recent 138th Annual Sheriffs Association of Texas Training Conference in Grapevine.

7/6/2016
I would like to say "Thank You" to the Navarro County citizens for voting me 2016 "Best of the Best" County Law Enforcement Officer. It's not only an honor to win this award but to continue serving our citizens as well.
Again, thank you for voting me Best of the Best for 3 years in a row now. I am humbled and certainly appreciate your continued support.
Sheriff Elmer Tanner
5/12/2016
The 30th Annual Texas Jail Conference in Austin, TX
Photo of the Sheriffs in attendance at the 30th annual Texas Jail Conference in Austin.

Captain York, Lieutenant Ballard, Alan Vitters, Traci Cardwell, Rachel Miller and Mark Edwards after a day of classes.

Sheriff Tanner stopping by the vendor booth for Southern Health Partners. They are our inmate healthcare provider.
4/30/2016
Here are a few photos, courtesy of Gary Arnett, from our participation in the 41st Annual "Back the Blue" themed Corsicana Derrick Days Parade.
4/15/2016
| | | |
| --- | --- | --- |
| | | |
| | Our day shift Telecommunicators are supporting National Public Telecommunicator week today by sporting these new 9-1-1 SUPERHERO shirts. | |
4/13/2016
I was not only very honored being invited but thoroughly enjoyed getting to read to the 4th grade boys and girls at Navarro Elementary this morning. It was a nice change to not only get to read to but to come see and visit with the all kids. Being a 5/country boy myself I can resonate with the story and hope the kids realized it pertains to them in many ways as well.
Thank you Mrs. Tanya Linex for inviting me and to all the 4th grade classes who were very welcoming, polite and displayed awesome behavior.

Sheriff Elmer Tanner
4/11/2016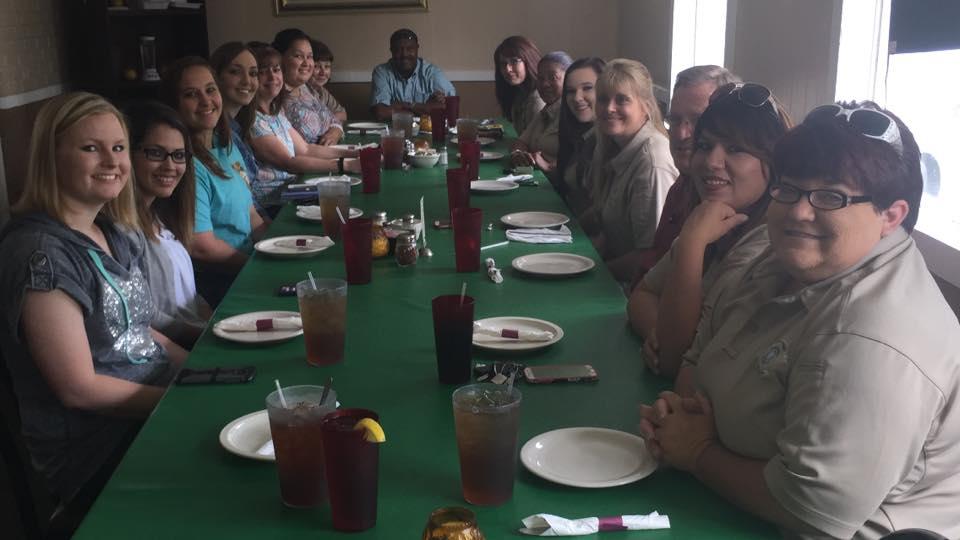 The N.C.S.O. Communications Division, Chief Deputy Steward and Sheriff Tanner began celebrating National Public Telecommunicators Week today by having lunch together with our Telecommunicators at Italian Village restaurant.
2/10/2016
The Navarro County Sheriff's Office annual departmental meeting was held yesterday at the Cowboy Church of Corsicana. Deputies were recognized for their individual and departmental accomplishments during 2015. We congratulate Sergeant Melanie Cagle as Communications officer of the year, Sergeant Robin Woodall as Detention officer of the year, Shane Richards as Deputy of the year and Sergeant Gail Hurley as Employee of the year. Also recognized as the most tenured officer of the NCSO was Sergeant Johnny Lake who has been with the N.C.S.O. for 37 years, and Jim Johnson who has been in the law enforcement profession for 54 years. Congratulations to these officers and all the members of the N.C.S.O. on a job well done in 2015.
Sheriff Elmer Tanner




Sheriff Tanner and members of NCSO command staff.




Chief Deputy Steward and members of NCSO command staff.

Sergeant Melanie Cagle receiving Communication Officer of the Year Award.

Sergeant Robin Woodall receiving Detention Officer of the Year Award.

Deputy Shane

Richards receiving Deputy of the Year Award.

Sergeant Gail Hurley receiving Employee of the Year Award.

Sergeant Johnny Lake recognized as most tenured employee with 37 years of service and has worked for seven different sheriffs.

Detention Officer Jim Johnson recognized for 54 years of service in law enforcement.



NCSO Departmental Chaplains Danny Reeves and Rick Lamb recognized for their service.

All smiles during our meeting.



No comment...
1/23/2016
The Navarro County Sheriffs Office proudly posted the colors for the Lions Club area meeting in Corsicana. I was very honored when asked to be a judge of the student essay and speech contest that ultimately will award scholarships.

Sheriff Elmer Tanner
12/07/2015
I want to say how much I appreciate everyone who assisted with our NCSO annual holiday meal today. A very special thank you to Becky Hatchel, Rachael Miller, Darren Richardson and George Kitchen for all your hard work and to the many NCSO employees who prepared food and helped to make this a festive occasion. I really appreciate all of you.
I also wish to thank the many elected officials, county employees, NCSO employees and their families who took the time out of their busy day today to join us.
12/05/2015
Good to see everyone at the Corsicana Christmas Parade. I think this year was the biggest parade I can remember and what a huge crowd of spectators. Hope everyone had as good a time as Mandy, Chief Deputy Steward and I did. We wish everyone a very Merry Christmas.
-Sheriff Elmer Tanner.
12/03/2015
| | | |
| --- | --- | --- |
| | | |
| | Once again I was very proud of our Color Guard as they represented the NCSO at the Navarro College Police Academy classroom dedication to Jason Westmoreland. | |
11/13/2015
| | | |
| --- | --- | --- |
| | | |
| | The Texas Association of Hostage Negotiators hosted the 22nd Annual Southwestern Crisis Negotiations Training Conference this week in Addison. The NCSO negotiations team of Sheriff Tanner, Sergeant Cagle, Deputy Matthews and Reserve Captain Palos attended. | |
09/19/2015
Our NCSO Color Guard proudly participated in the annual Kerens Homecoming Parade.




09/19/2015
Congratulations to Captain Stan Farmer and Sgt. Jeff Harbuck on winning the 2015 Habitat For Humanity Meat and Skeet today at Upland Bird Country. This is the third year in a row that NCSO has brought home the championship trophy in this charity event.




Well done guys and thank you to all who participated in this event.




09/11/2015
Patriot's Day Ceremony at Bunert Park
08/29/2015
Deputy Shane Richards getting his NCSO patrol vehicle washed today while supporting the Blooming Grove peewee cheerleaders at the corner of 7th and 24th in Corsicana. Good job and good luck kids.


08/15/2015
Thanks to everyone who stopped by our booth Saturday at the back to school / stay in school rally. It was our pleasure to interact with the youth of our community. We gave away 911 school supplies and T- shirts with an important message "Don't text and drive." Be safe and have a great school year.
Press Releases